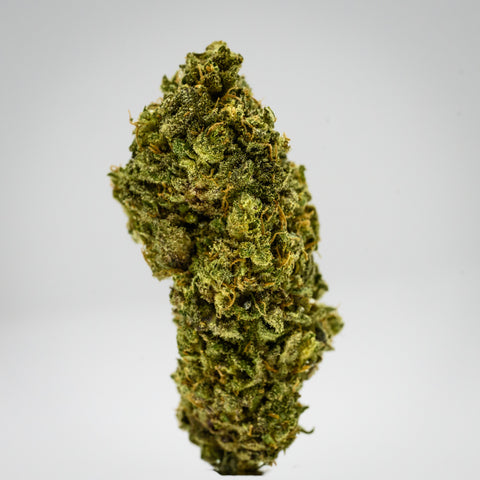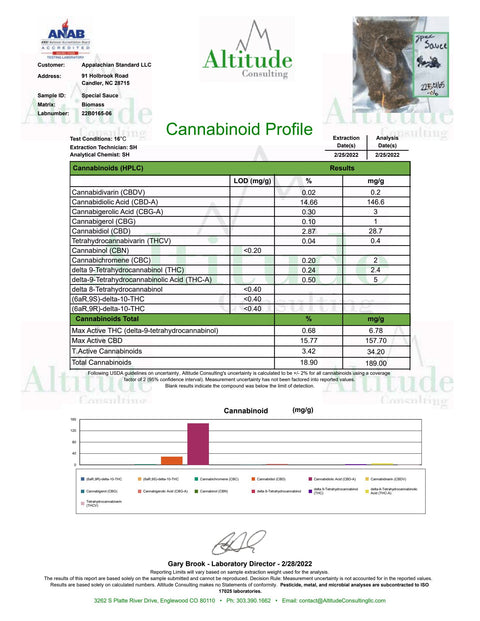 Appalachian Standard
Special Sauce Hemp Flower
Genetics: (Special Sauce x ERB)
Get lost in the sauce! Special Sauce is a balanced hybrid cultivar that offers a creative and uplifting experience. It displays tight, bright green buds that have pink and orange hairs and lots of frosty trichomes.
The smell has a sharp, somewhat sour smelling berry note mixed with an earthy background smell, due to high levels of myrcene and trans-caryophyllene – terpenes that have proven anti-inflammatory and antimicrobial properties.
This cultivar is a show-off in the grow room, and as such has been recognized with the following awards:

*2nd Place 2019 Oregon Growers Cup*
*2nd Place 2020 Judges Favorite Golden Grow Awards*
*2nd Place 2020 Cultivation Classic*

Using Special Sauce gives the user a sense of relaxation in body, mind, and soul but it is also one of our favorite recommendations for focus! It's also just a great CBD producer, with tests showing over 17.5% CBD and 19% overall total cannabinoids. This has quickly made it a Farm Fave at Appalachian Standard that we all swear by for regular everyday use!
Enjoy this award winning cultivar available as rollies and trimmed flowers.

Special Sauce Flower is such a yummy lil' classic…we also have Fresh Squeezed, Kush Cake and many more!
Usage and Suggested Serving
Anytime of day/1 gram per day or as needed
Cannabinoid Highlights
17.53% CBD
18.89% Total Cannabinoids 
Contains: THC-A, CBC and CBG
*Appalachian Standard's premium hemp flower is third-party tested for quality and purity and grown without the use of chemical pesticides, making it an ideal addition to your daily routine. All products are grown and processed in-house by us, from seed to sale! 
Check out our Instagram to see more tincture and flower! For tutorials on the ladies, informational videos, and so much more, follow our Facebook!
Disclaimer
This content is not intended to be a substitute for professional medical advice, diagnosis, or treatment. Always seek the advice of your
physician or other qualified health provider with any questions you may have regarding a medical condition. No guarantee of passing a drug test.
All hemp products are grown without pesticides.