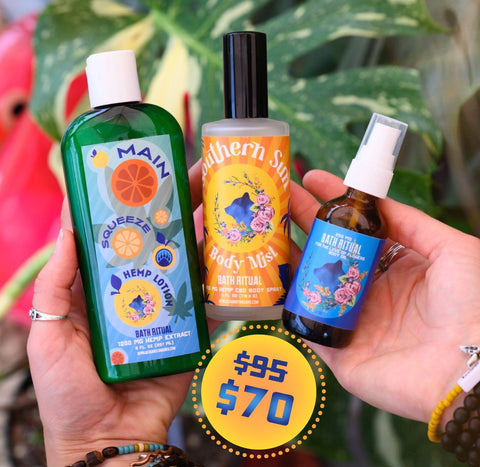 Appalachian Standard
Summer Skin Care Bundle
Save your skin with our Summer Skin Care Bundle. Each bundle includes:
Southern Sun Body Mist: This is the perfect blend to refresh and revive weather-affected skin. Aloe, Jojoba Oil, Vitamin E, and our greenhouse grown hemp is a potent blend that maximizes both relief and replenishes moisture to the skin.
Main Squeeze Hemp Body Lotion: Refresh your body with our soul soothing lotion. With hints of citrus, this body lotion smells amazing. It packs a punch with 1000mg of our hemp flower extract.
For the Love of Flowers Body Oil with CBD: Delight your senses and give your skin a divine golden glow while nourishing yourself with this luscious blend of cinnamon, sandalwood, damiana, and rose.
Interested in learning even more about hemp babies, and elevating the vibe? Check out our 

Instagram

 

and

 

TikTok

.
Disclaimer
This content is not intended to be a substitute for professional medical advice, diagnosis, or treatment. Always seek the advice of your physician or other qualified health provider with any questions you may have regarding a medical condition. No guarantee of passing a drug test. All hemp products are grown without pesticides.