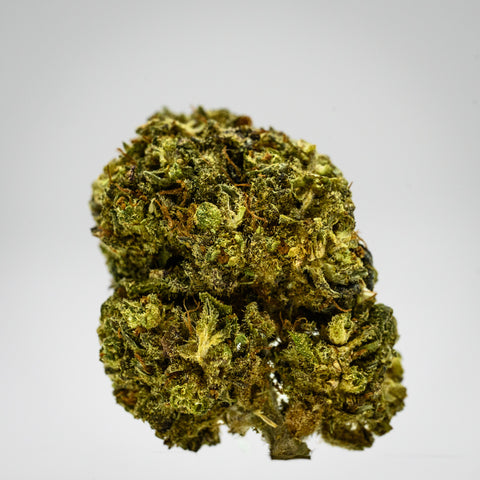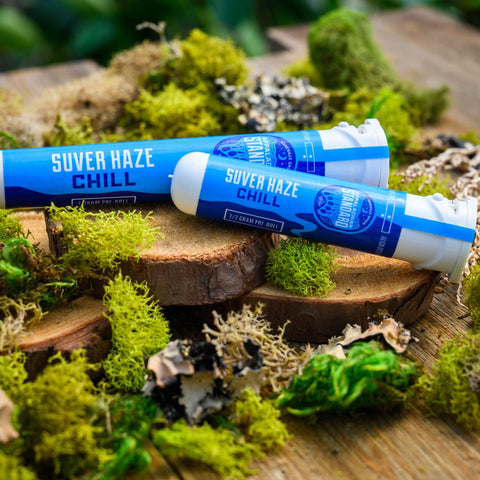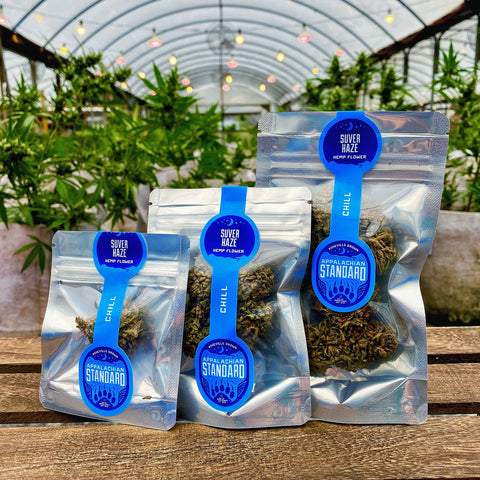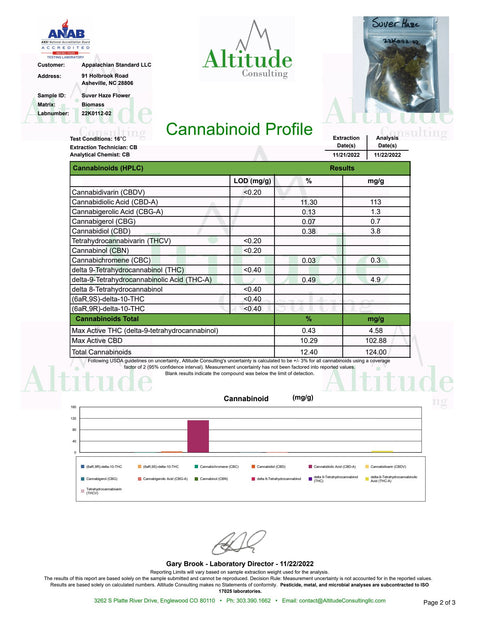 Appalachian Standard
Suver Haze Hemp Flower
Suver Haze is a cultivar renowned for its therapeutic qualities and balanced cannabinoid profile. It is a hybrid cultivar but we find that it has very relaxing qualities, which is why we categorized it in our Chill Collection.
Cultivar Profile
Suver Haze is distinguished by its remarkable CBD content, producing instant relaxation. This robust concentration of cannabidiol makes it an attractive choice for individuals seeking the potential health benefits of cannabis without the psychoactive effects associated with THC. This makes Suver Haze very well-suited for managing various ailments, including stress, anxiety, and minor physical discomfort.
The terpene profile of Suver Haze further enhances its appeal. It tests high in trans-caryophyllene (anti-inflammatory) and myrcene (sedation, calm), leading to an aroma characterized by a delightful fusion of sweet and fruity notes complemented by subtle undertones of pine and earthiness.
This cultivar has garnered considerable acclaim within the CBD community, winning the following awards:
*1st Place 2019 Cultivation Classic Hemp Flower*
*1st Place 2020 Cultivation Classic Hemp Flower*
*1st Place 2020 WEEDCon Buyers Cup*


Usage and Suggested Serving
3-4 puffs as needed
Cannabinoid Highlights
11.68% CBD
12.4% Total Cannabinoids
Contains:
 THC-A and CBG
Genetics:
 Suver #8 x ERB
*Appalachian Standard's premium hemp flower is third-party tested for quality and purity and grown without the use of chemical pesticides, making it an ideal addition to your daily routine. All products are grown and processed in-house by us, from seed to sale.*
Interested in learning even more about hemp babies, and elevating the vibe? Check out our Instagram and TikTok.
Disclaimer
This content is not intended to be a substitute for professional medical advice, diagnosis, or treatment. Always seek the advice of your
physician or other qualified health provider with any questions you may have regarding a medical condition. No guarantee of passing a drug test.
All hemp products are grown without pesticides.