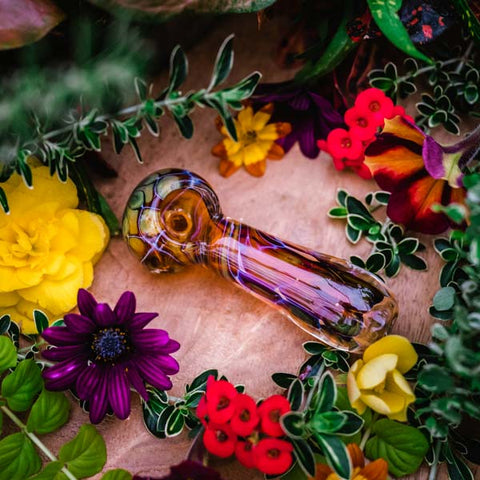 Appalachian Standard
Golden Sea Turtle Shell Spoon
The Golden Sea Turtle Shell Spoon is beautiful! She's the perfect lil' spoon for a vibey, dreamy CBD and hemp session. It's made with fumed borosilicate glass and measures approximately 3.7" long, so it's great as a travel piece!
Each Golden Sea Turtle Shell Spoon is made right here in North Carolina. It has a carb and several decorated buttons, as well as some on the side of the bowl for easier grip. The color palette (lots of earthy swirly vibes of purple, green, and brown) and patterning is dazzling--with the pattern copying that of a sea turtle's back!
Grab one of our grinders and your favorite flower (get you some Lifter to reach alllll of your dreams!) and try them out with this beauty! We also have lighters because...well, no kit is complete without a lighter.
Since these babies are hand made, color and pattern on each piece will vary...but they'll all be stinkin' beautiful. This is the best gift for a friend who is absolutely in love with sea life!
Interested in learning even more about CBD, hemp, and our other products? Check out our Instagram and Twitch for more information on upkeep and how-to's with your CBD and Hemp kits!
Disclaimer
This content is not intended to be a substitute for professional medical advice, diagnosis, or treatment. Always seek the advice of your
physician or other qualified health provider with any questions you may have regarding a medical condition. No guarantee of passing a drug test.
All hemp products are grown without pesticides.