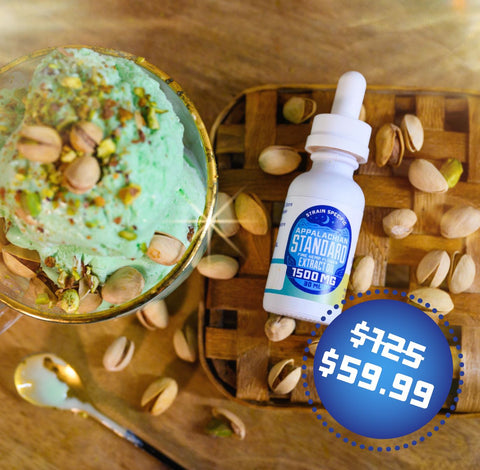 Appalachian Standard
Pistachio Ice Cream Hemp Oil Tincture
The Pistachio Ice Cream Hemp Oil Tincture is the ultimate sweet tooth's delight. With nutty, creamy flavors and a hit of sugar, this tincture is a must have for refreshing the mind, body, and taste buds. One drop of Pistachio will transport you into a luxurious dessert dream. This flavor is a limited edition summer flavor, so scoop it up before it leaves forever.
Why does Pistachio Ice Cream Hemp Oil Tincture taste so good?
Flavor-enhanced terpenes are extracted naturally from fruits, flowers, and nuts and offer the natural health benefits of terpenes but with the added benefit of tasting like something specific. Flavor-enhanced terpenes are the best of both worlds. The terpenes used to create the flavor are derived from natural plant matter and are NEVER from artificial flavors.
Product Includes:
30ml bottle with 1500mg of CBD
Ingredients:
Full Spectrum Hemp Flower Extract, Natural Plant Terpenes, Organic MCT Oil (Contains Tree Nuts)
Check out our Instagram to see more tincture and vape flavors. For tutorials on the ladies, informational videos, and so much more, follow our Facebook.
Disclaimer
This content is not intended to be a substitute for professional medical advice, diagnosis, or treatment. Always seek the advice of your
physician or other qualified health provider with any questions you may have regarding a medical condition. No guarantee of passing a drug test.
All hemp products are grown without pesticides.