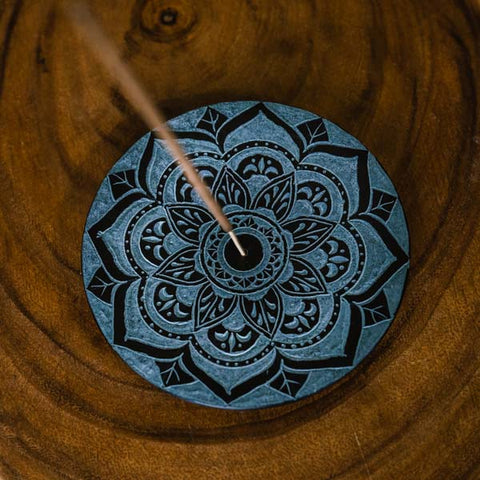 Appalachian Standard
Soapstone Round Incense Holder
The Soapstone Round Incense Holder is a beautiful, hand-carved incense holder that is heavy to hold (yep, it's stone y'all!) and will elevate any room through it's decor and function. This delightful soapstone incense burner features an open lotus flower/mandala design in a light blue color (we had to give you a lil App Standard reminder). The rest of the design is a sleek matte grey/black which is great for easy ash clean up. This holder can be used with stick or cone incense, and also as a pillar candle plate. The measure is approximately 4" diameter and 0.5" in height, and is made in India.
Get stoned and enjoy this Soapstone Round Incense Holder! We also have several incenses to choose from, including
HEM incense
and
Nitiraj incense
...both actual legends in the incense field (like...hundreds of years old y'all. So so old). Need some hemp or CBD enjoyables to set the mood? Try our
Nugs 'n' Roses
aphrodisiac, or any of the other select pre rolls we have!
Disclaimer
This content is not intended to be a substitute for professional medical advice, diagnosis, or treatment. Always seek the advice of your
physician or other qualified health provider with any questions you may have regarding a medical condition. No guarantee of passing a drug test.
All hemp products are grown without pesticides.