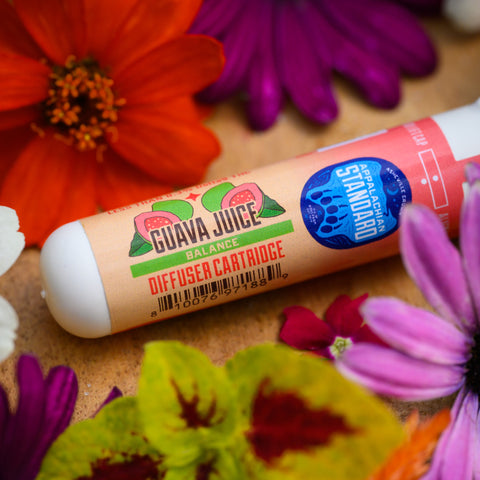 Appalachian Standard
Guava Juice CBD Vape
The Guava Juice Terpene Enhanced Vibe Vessel is the perfect hybrid for summertime. This sweet, delicious fruit is not only tasty, but also down right refreshing. 
We recommend bringing this babe to stay chilled and invigorated at all of those outdoor concerts. The taste is somewhere between strawberry and pear...and it's all yummy. These babes are only available for a limited time so get them while they're around!
How does Guava Juice taste so good?
Flavor-enhanced terpenes are terpenes that are extracted naturally from fruits, flowers, and nuts. Flavor-enhanced terpenes are the best of both worlds. The terpenes used to create the flavor are derived from natural plant matter and are NEVER from artificial flavors.
Product Includes:
CBD Filled Glass 500mg Cartridge
Ingredients:
Full Spectrum Hemp Flower Distillate, Natural Terpenes, Organic MCT Oil (Contains Tree Nuts)
Interested in learning even more about hemp babies, and elevating the vibe? Check out our Instagram and TikTok.

Disclaimer
This content is not intended to be a substitute for professional medical advice, diagnosis, or treatment. Always seek the advice of your physician or other qualified health provider with any questions you may have regarding a medical condition. No guarantee of passing a drug test. All hemp products are grown without pesticides.