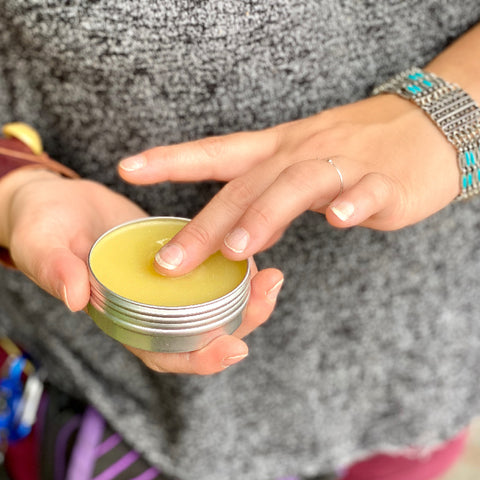 Appalachian Standard
Tropical CBD Salve
Our Tropical CBD Salve is a standard here at Appalachian Standard. Made with beeswax, full spectrum hemp oil, and essential oils, this salve is the holy grail of relief for hard-working muscles.
Readily absorbed by the skin, this Tropical CBD Salve works to fuel the endocannabinoid system (ECS) which runs through our bodies. Nourishing the endocannabinoid system with topical hemp can amplify the power of the ECS to relieve inflammation and provide physical support to the body where it needs it.
Application: Apply liberally to the area of desired relief every six hours for maximum results.
Ingredients: Grapeseed Oil, Full Spectrum Hemp Flower Extract, Beeswax, Lavender Flower Oil, Vitamin E, Sunflower Seed Oil, Shea Butter,* Jojoba Seed Oil,* Rosehip Seed Oil, Meadowfoam Seed Oil, Calendula Flower Extract,* Olive Fruit Oil, Coconut Essential Oil, Lime Oil, Grapefruit Oil, Orange Oil, Eucalyptus Oil, Tea Tree Leaf Oil, Roman Chamomile Flower Oil, German Chamomile Flower Oil (*Organic)
*For external use only. Keep out of reach of children.*
Interested in learning even more about hemp babies, and elevating the vibe? Check out our Instagram and TikTok.
Disclaimer
This content is not intended to be a substitute for professional medical advice, diagnosis, or treatment. Always seek the advice of your physician or other qualified health provider with any questions you may have regarding a medical condition. No guarantee of passing a drug test. All hemp products are grown without pesticides.