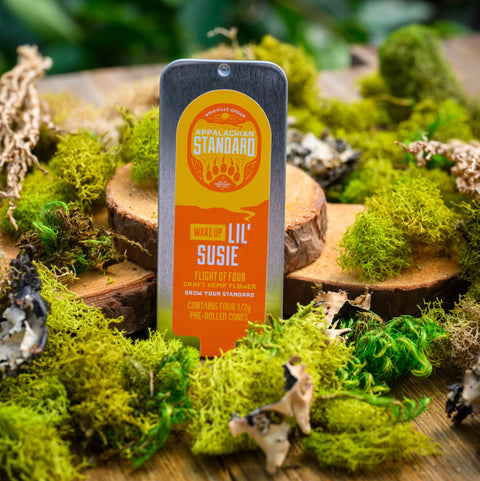 Appalachian Standard
Wake Up Lil' Susie Sativa Rollie Flight
Named after our very own, Lil' Mrs. Susie, this flight is perfectly curated to bring the best invigorating, craft hemp strains and put a skip in your step for the day. Our 2020 CBD- rich Summertime invigorating strains for our Wake Up Lil' Susie flight include...
Abacus: Abacus has high levels of CBD as well as other minor cannabinoids, which make for a mellow effect. It's well balanced effects make it ideal for a beginner or a seasoned cannabis veteran.
Fresh Squeezed: The buds boast a dense and resinous structure, delicious green hues, and a delightful aroma reminiscent of freshly squeezed citrus fruits (Listen y'all–the name makes sense). This well-balanced cultivar can help with relaxation, mental clarity, and may have potential therapeutic benefits!
Pineapple Kush: Its aroma is sweet like fresh cut pineapples with earthy undertones transporting you to an exotic tropical oasis! Great for the daytime; Pineapple Kush has potential to combat the stresses of daily life by promoting relaxation. Pineapple Kush delivers uplifting and calming effects,  taking you on a tranquil journey with Pineapple Kush, where blissful serenity awaits.
Sour Space Candy: Sour Space Candy Flower sugar coats our Invigorate collection and boasts a cannabinoid profile to match.  Like a classic sativa, this cultivar falls into our Invigorate collection because of its taller plant structure and broad lanky leaves.
Disclaimer
This content is not intended to be a substitute for professional medical advice, diagnosis, or treatment. Always seek the advice of your physician or other qualified health provider with any questions you may have regarding a medical condition. No guarantee of passing a drug test. All hemp products are grown without pesticides.