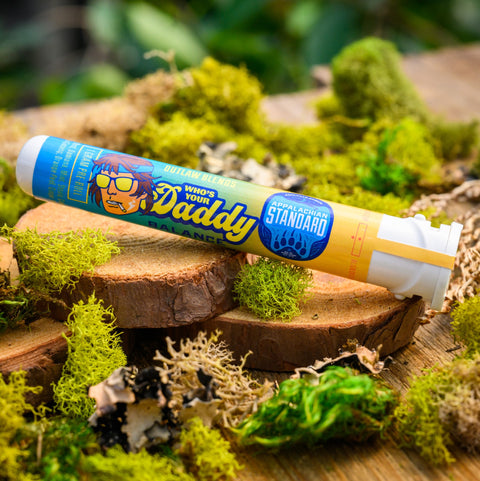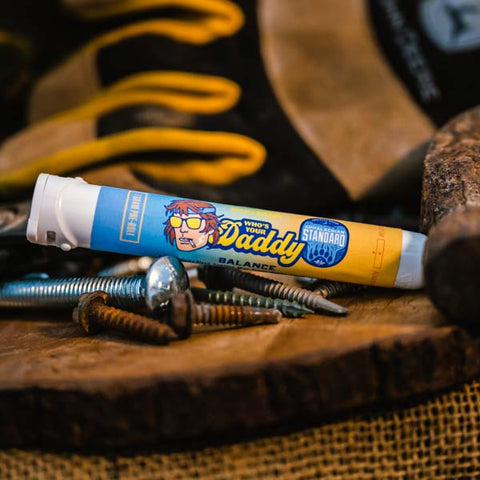 Appalachian Standard
Who's Your Daddy Rollie Blend
A specialty blend from momma's Outlaw Blend Series
Who's your daddy, who's yo baby
Each blend has:
Abacus: Our beautifully balancing, hybrid cultivar that matches day or night vibes and boosts mood.
Harle Cat: This seasons harvest of

Harle Cat is a true game changer for feelin' goooood. She's one of our strongest babes for good vibes as she helps us unwind and loosen up. Harle Cat is an Indica leaning hybrid that soothes the soul.

Special Sauce: Our fav babe for an uplifting, euphoric bliss.
Damiana: The tropical aphrodisiac. Increase mental clarity and

boost mood with this soothing lil' yellow treat.

Mint: Increases mental clarity, calms the nerves, optimizes blood flow and increases lung capacity.
Stevia: Stevia is a yummy substitute for sugar full of healthier benefits.
Ginko: Used for centuries to help with the circulatory system.
Lavender: The absolute QUEEN of calm. Y'all know lavender soothes the soul like no other!
Ginseng: To help with those achey bones!
Orange Peel: Yes baby!! Because oranges are chalk full of yum!!
Ginger: Truly a jack of all trades, but also helpful with aging.
Vanilla: Yes, vanilla! This delish spice makes Daddy's Lil Helper truly a game changer with it's scent and taste!
Clove: To add and bring out the orange peel and vanilla.
Cat Nip: Cat nip makes cats super happy, but it's also a potentially beautiful answer for soothing any tummy troubles and digestive issues!
Interested in learning even more about CBD, hemp babies, and our stoke sticks? Check out our Instagram and Twitch for more information on upkeep and how-to's with your CBD and Hemp kits!
Disclaimer
This content is not intended to be a substitute for professional medical advice, diagnosis, or treatment. Always seek the advice of your physician or other qualified health provider with any questions you may have regarding a medical condition. No guarantee of passing a drug test. All hemp products are grown without pesticides.