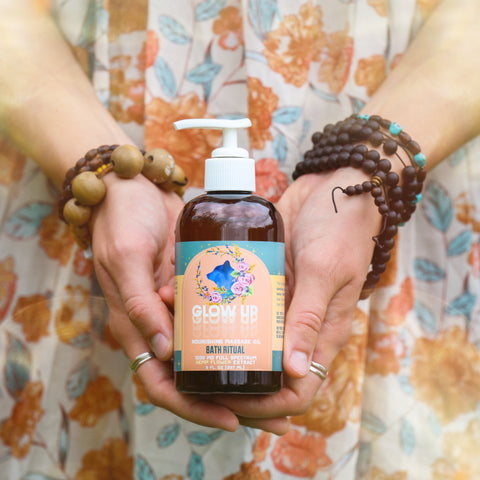 Appalachian Standard
Glow Up Massage Oil with CBD
Give your skin the shine that it deserves with the Glow Up Massage Oil with CBD.
Glow Up Massage Oil with CBD is perfect for basic skin moisturizing and protection against the dry elements. It's also a great option for sore athletes looking for relief or professional massage therapists trying to find that right "slip." Its aroma is magical— smelling like fresh baked sugar cookies.
Contains: 1000mg Full Spectrum Hemp Extract
Ingredients: Olive Oil, Avocado Oil, Hemp-Infused MCT Oil* (Contains Tree Nuts), Rose*, Damiana Leaf, Cinnamon Bark*, Sandalwood Essential Oil*, Frankincense, Candelilla wax, and Chamomile (*Organic)

Interested in learning even more about hemp babies and elevating the vibe? Check out our Instagram and TikTok.
Disclaimer
This content is not intended to be a substitute for professional medical advice, diagnosis, or treatment. Always seek the advice of your physician or other qualified health provider with any questions you may have regarding a medical condition. No guarantee of passing a drug test. All hemp products are grown without pesticides.