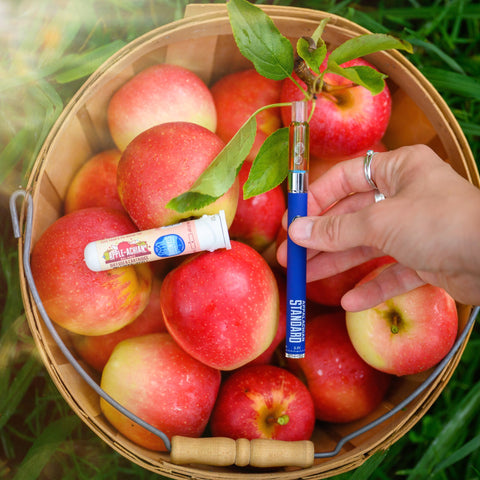 Appalachian Standard
APPLE-achian Hemp Vape
Introducing "Apple-achian" Hemp Vape: a breath of crisp Appalachian air in every puff. Immerse yourself in the sweet and tangy embrace of ripe apples infused with premium CBD. Crafted from Appalachian Standard's premium hemp extract and third-party tested for quality and purity, this vape is designed for simplicity, making it an ideal addition to your daily routine. Boost your relaxation as you savor the pure essence of nature's bounty, meticulously crafted for your vaping pleasure. Unplug and unwind with "Apple-achian," where the orchard meets serenity in a unique and invigorating experience.
Why does the Apple-achian Vape taste so good?
Flavor-enhanced terpenes are terpenes that are extracted naturally from fruits, flowers, and nuts. Flavor-enhanced terpenes are the best of both worlds. The terpenes used to create the flavor are derived from natural plant matter and are NEVER from artificial flavors.
Usage and Suggested Serving
3-4 puffs as needed
Product Includes:
CBD Filled Glass 1000mg Cartridge
Ingredients:
Full Spectrum Hemp Flower Distillate, Natural Terpenes, Organic MCT Oil (Contains Tree Nuts)
Check out our Instagram to see more tincture and vape flavors! For tutorials on the ladies, informational videos, and so much more, follow our Facebook!
Disclaimer
This content is not intended to be a substitute for professional medical advice, diagnosis, or treatment. Always seek the advice of your
physician or other qualified health provider with any questions you may have regarding a medical condition. No guarantee of passing a drug test.
All hemp products are grown without pesticides.