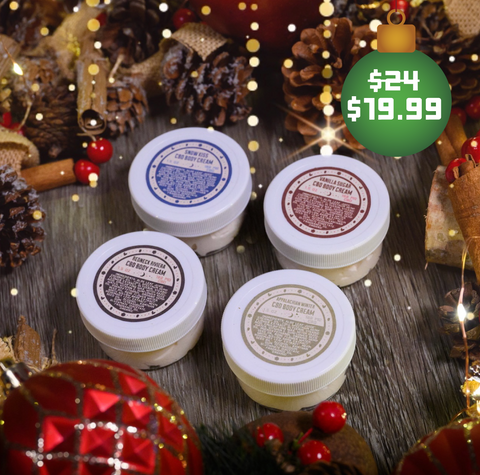 Appalachian Standard
Holiday CBD Body Cream Bundle
You asked for more CBD body creams, and we heard ya, baby! This is the perfect holiday bundle for under the Christmas tree, in the stocking, or in your own lotion stash (Don't worry, we won't tell…treat yourself!). All body creams contain 188mg of CBD.
Our Holiday CBD Body Cream Bundle includes:
Warm Vanilla Sugar CBD Body Cream: Like a tray of warm vanilla sugar cookies straight from the oven, this scent is a sweet holiday fav. It features rich, decadent notes of brown sugar and vanilla nestled with a hint of musk.


Appalachian Winter CBD Body Cream: Crisp, clean and oh-so jolly, this CBD body cream features hints of snow-covered pine trees and juicy citrus with heady vanilla and spicy cloves.


Snow Kiss CBD Body Cream: Feel the sugar plum fairies dance on your skin with the scent of juicy clementine infused with effervescent notes of bergamot and frosted ivy enhanced with a jumble of wild berries, alluring winter roses, and a sticky sweet pop of spun sugar.


Redneck Riviera CBD Body Cream: She's back, baby. Not ~technically~ a holiday scent, but…it's always Christmas in July at your fav Redneck Riviera! Enjoy this creamy coconut beachy scent any time of year.
Please note: Holiday Boxes will start shipping after Thanksgiving. We expect our holiday boxes to sell out so snag yours while you can!
Interested in learning even more about hemp babies, and elevating the vibe? Check out our Instagram and TikTok.
Disclaimer
This content is not intended to be a substitute for professional medical advice, diagnosis, or treatment. Always seek the advice of your physician or other qualified health provider with any questions you may have regarding a medical condition. No guarantee of passing a drug test. All hemp products are grown without pesticides.