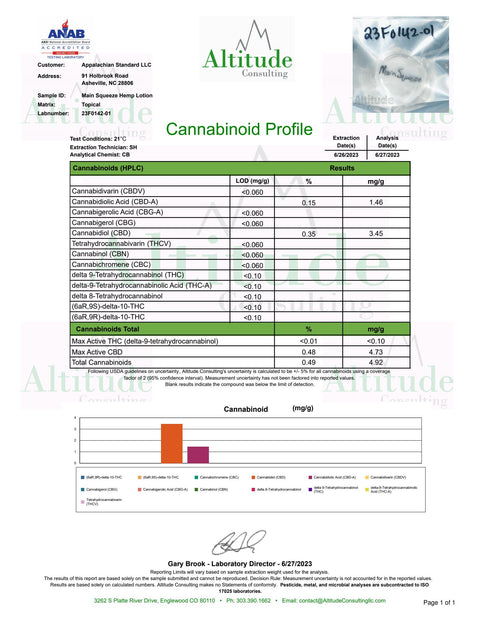 Appalachian Standard
Main Squeeze Hemp Lotion
Our Main Squeeze Hemp Lotion is ready to help keep your bod REFRESHED in this sizzlin' summer heat! Refill the stoke tank with a squeeze of this refreshing, moisturizing cream. Experience a silky, soothing lotion made with 1,000mg full spectrum hemp flower that leaves skin rich and soft but not too oily. Hemp is also said to potentially help with relief from sittin' in the sun too long!
Main Squeeze Hemp Lotion also brings your nose on a straight-up journey of scent, focusing on citrus goodness with hints of grapefruit, lemon, lime, and yummy mandarin. Basically, the best fruit basket you've ever seen. AND...long after the summer heat fades, this lotion is perfect for keeping skin beautiful during the colder, windier months. And that's on versatility baby.
Main Squeeze Hemp Lotion is absolutely sensational! Try our other amazing topicals, like Soothe Operator Muscle Gel and Redneck Riviera Body Cream!
Take your skin care up a notch with our luscious Spa Bundle and Summer Body Care Bundle!
CONTAINS: 1,000mg Hemp Extract
Interested in learning even more about hemp babies, and elevating the vibe? Check out our Instagram and Twitch for more information on upkeep and how-to's with your Hemp kits!
Disclaimer
This content is not intended to be a substitute for professional medical advice, diagnosis, or treatment. Always seek the advice of your
physician or other qualified health provider with any questions you may have regarding a medical condition. No guarantee of passing a drug test.
All hemp products are grown without pesticides.