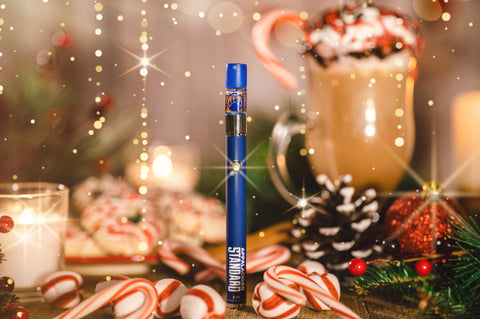 Appalachian Standard
Peppermint Mocha CBD Vape
Peppermint Mocha CBD Vape, our crowd favorite winter release, is back! Celebrate the holidays with every breath as you savor the beloved classic fusion of peppermint, mocha, and CBD in this limited edition seasonal vape. 
Specially crafted to bring you the soothing benefits of CBD alongside the festive flavors of the holidays, our Peppermint Mocha CBD Vape provides a perfect blend of taste and relaxation. 
Peppermint Mocha CBD Vape contains the same full spectrum Appalachian Standard hemp flower extract you know and love with natural, plant-derived terpenes for flavor. The refreshing coolness of peppermint intertwines seamlessly with the deep, velvety notes of mocha, creating a unique and enchanting vape that calms the senses while charming the taste buds.
Product Includes:
CBD Filled Glass 1000mg Cartridge
Ingredients in Vessels:

Full Spectrum Hemp Flower Distillate, Natural Terpenes, Organic MCT Oil (Contains Tree Nuts)
Disclaimer
This content is not intended to be a substitute for professional medical advice, diagnosis, or treatment. Always seek the advice of your physician or other qualified health provider with any questions you may have regarding a medical condition. No guarantee of passing a drug test. All hemp products are grown without pesticides.