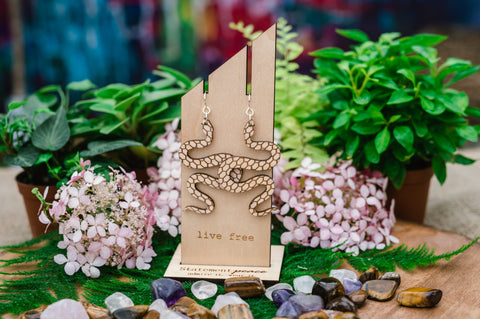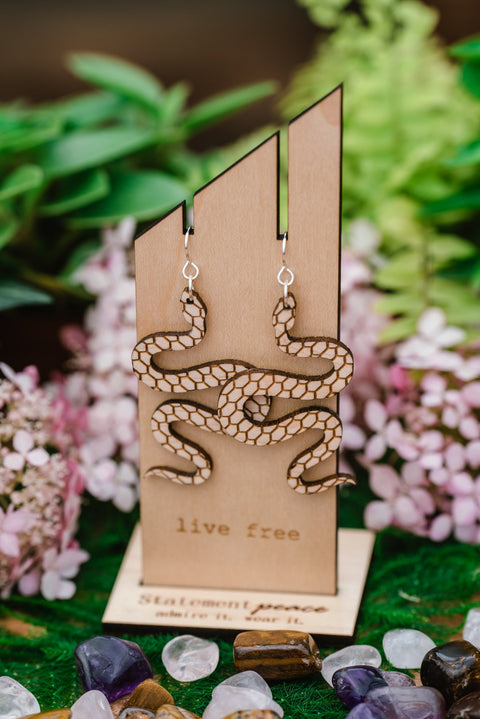 Appalachian Standard
Snake Earrings
The snake symbolizing transformation of energy from lower vibrations to higher aspects of mind, body, spirit. Snakes shed their skin in a ritual representing rebirth and new beginnings with an ability to leave old skin behind. Snakes represent a fascinating metamorphosis.
Made by Statement Peace. Sterling Silver hardware and super light in weight. Includes wooden display.
For every piece of Statement Peace jewelry sold, one tree is planted.
Interested in learning even more about CBD, hemp babies, and elevating the vibe? Check out our Instagram and Twitch for more information on upkeep and how-to's with your CBD and Hemp kits!
Disclaimer
This content is not intended to be a substitute for professional medical advice, diagnosis, or treatment. Always seek the advice of your
physician or other qualified health provider with any questions you may have regarding a medical condition. No guarantee of passing a drug test.
All hemp products are grown without pesticides.