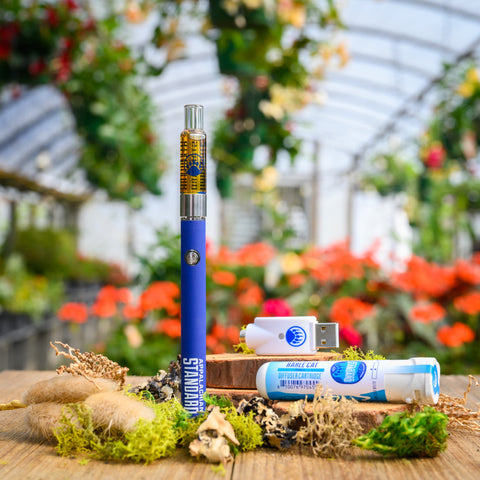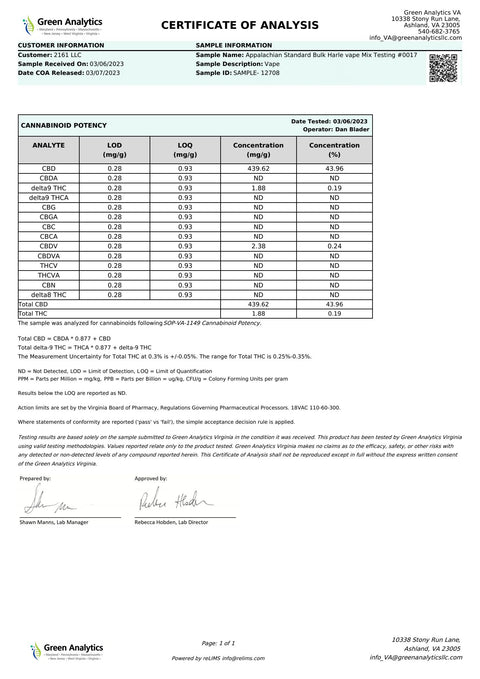 Appalachian Standard
Harle Cat Hemp Vape
Harle Cat Flower is a bit of a modern legend around these parts. It falls into our Chill Collection as an indica. 
Cultivar Profile
It boasts broad dark green leaves, bright orange pistils with a short and stocky plant structure. The flower buds are a bit more airy and less dense than other indicas, but that doesn't mean she won't "pack a punch." 
Its aroma is overflowing with warm earthy richness and delicate floral undertones. The cannabinoid profile is loaded, and sometimes can deliver a more heady kind of feeling, which also explains why it's one of our most popular cultivars with a devoted following. Many people have told us that it is their preferred cultivar for treating pain.
Usage and Suggested Serving
3-4 puffs as needed
Cannabinoid Highlights
5.3% CBD
8.2% Total Cannabinoids
Contains: THC-A
Genetics: Harlequin and Sour Tsunami
Ingredients: Full Spectrum Hemp Flower Distillate, Natural Terpenes, Organic MCT Oil (Contains Tree Nuts)
*Appalachian Standard's premium hemp flower is third-party tested for quality and purity and grown without the use of chemical pesticides, making it an ideal addition to your daily routine. All products are grown and processed in-house by us, from seed to sale.* 
Interested in learning even more about hemp babies, and elevating the vibe? Check out our 
Instagram
and
TikTok
.
Disclaimer
This content is not intended to be a substitute for professional medical advice, diagnosis, or treatment. Always seek the advice of your
physician or other qualified health provider with any questions you may have regarding a medical condition. No guarantee of passing a drug test.
All hemp products are grown without pesticides.