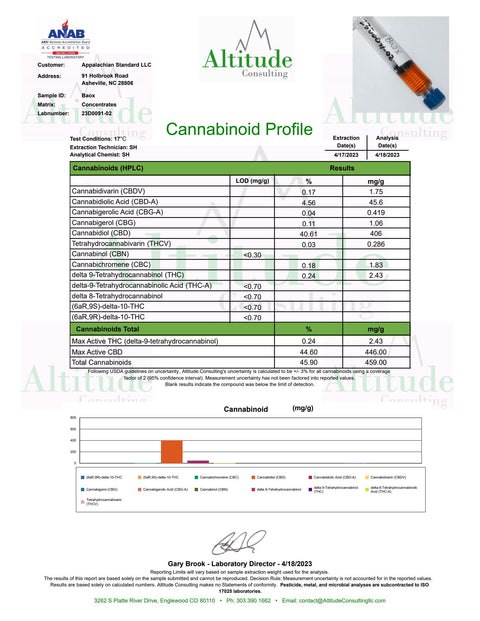 Appalachian Standard
Baox Hemp Vape
Baox is a sativa cultivar that falls into our Invigorate Collection. Baox has the potential to combat the stresses of daily life with the calming floral scents and tastes found in relaxing jasmine and chamomile. 
Cultivar Profile
Baox buds are on the lighter side in both density and color, making them great for pre-rolls. The light green calyxes contrast with the hunter green leaves and dark red hairs that give these flowers tremendous bag appeal. Baox boasts a taller plant structure, thin-fingered leaves, and a long flowering period.  
Jam-packed with anti-inflammatory terpenes, this cultivar can help move pain out of the way so you can get back to your best creative self.
Usage and Suggested Serving
Morning-Afternoon: 3-4 puffs as needed
Cannabinoid Highlights
16.5% CBD
18.4% Total Cannabinoids
Genetics: Hindu Kush x Otto II
Ingredients: Full Spectrum Hemp Flower Distillate, Natural Terpenes, Organic MCT Oil (Contains Tree Nuts)
*Appalachian Standard's premium hemp flower is third-party tested for quality and purity and grown without the use of chemical pesticides, making it an ideal addition to your daily routine. All products are grown and processed in-house by us, from seed to sale.*
Interested in learning even more about hemp babies, and elevating the vibe? Check out our 
Instagram
and
TikTok
.
Disclaimer
This content is not intended to be a substitute for professional medical advice, diagnosis, or treatment. Always seek the advice of your
physician or other qualified health provider with any questions you may have regarding a medical condition. No guarantee of passing a drug test.
All hemp products are grown without pesticides.