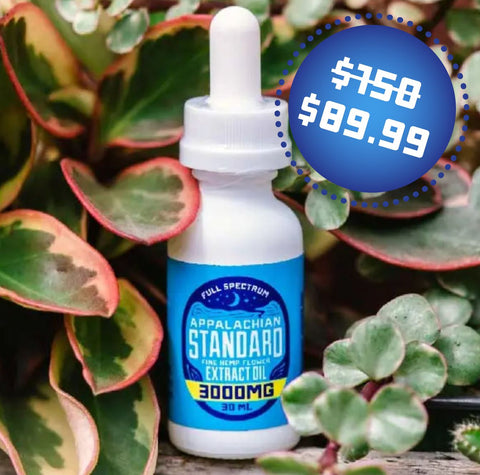 Appalachian Standard
Balance Extra Strength CBD Tincture
Our Balance Extra Strength CBD Tincture is—simply put—healing in a bottle. There's a reason we call this stuff liquid gold.
We use subcritical CO2 extraction, which is the industry leading method for preserving the full spectrum of terpenes, flavonoids, and cannabinoids. Plus, we grow, harvest, and process the ladies ourselves—the whole enchilada. All of the plant goodness ends up in this magical little bottle.
Usage and Suggested Serving
The Balance Extra Strength CBD Tincture is best absorbed sublingually. Drop this goodness under your tongue and hold for at least 30 seconds to a minute before swallowing.
These natural babes contain only two essential ingredients and nothing else.
Product Includes:
30ml bottle with 3000mg of CBD
Ingredients:
Full Spectrum Hemp Flower Extract, Organic MCT Oil (Contains Tree Nuts)
Total CBD Content

One dropperful: 100mg CBD
Full bottle: 3000mg Total Cannabinoids
Check out our Instagram to see more tincture and vape flavors. For tutorials on the ladies, informational videos, and so much more, follow our Facebook. 
Disclaimer
This content is not intended to be a substitute for professional medical advice, diagnosis, or treatment. Always seek the advice of your physician or other qualified health provider with any questions you may have regarding a medical condition. No guarantee of passing a drug test. All hemp products are grown without pesticides.