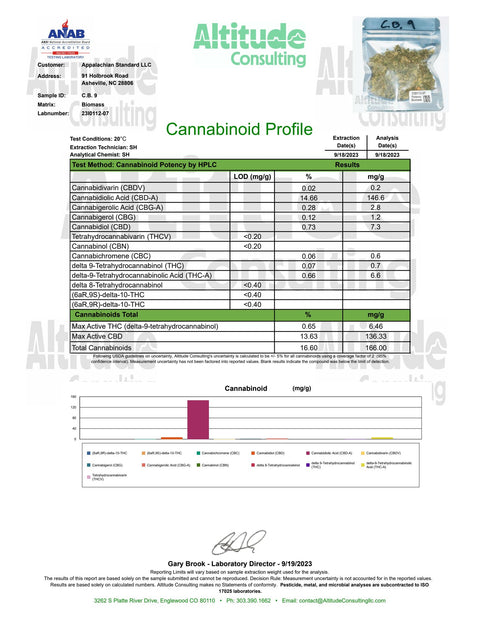 Appalachian Standard
Chemberry Hemp Flower
Chemberry Hemp Flower is a sativa cultivar that falls into our Invigorate Collection meaning it is well suited for use throughout the day without making the user too sleepy.
Cultivar Profile
Chemberry was the tallest and fastest growing cultivar of our Fall 2023 harvest! This sativa titan is truly a tricomed beauty while in bloom. Chemberry's fluffy green buds are particularly stout making them easy to grind and perfect for pre-rolls. Its taste is packed with earthy sweet terpenes while its aroma is a blend of fresh cut pine and pungent earthy funk.
Chemberry is a relatively new CBD cultivar known for sharing the same characteristics as its famous exotic mother: Chem4. It's safe to say that Chemberry is effectively engineered to provide an uplifting CBD experience every time.
This hemp flower may help spark creativity and elevate the spirit inviting you to embark on a sensory driven adventure. It may help alleviate inflammation and anxiety.
Usage and Suggested Serving
Anytime of day: 1 gram per day or as needed
Cannabinoid Highlights
13.63% CBD
16.6% Total Cannabinoids
Contains: THC-A
Genetics: Chem4 x KAP

*Appalachian Standard's premium hemp flower is third-party tested for quality and purity and grown without the use of chemical pesticides, making it an ideal addition to your daily routine. All products are grown and processed in-house by us, from seed to sale.*
Interested in learning even more about hemp babies, and elevating the vibe? Check out our Instagram, TikTok and Facebook!
Disclaimer
This content is not intended to be a substitute for professional medical advice, diagnosis, or treatment. Always seek the advice of your physician or other qualified health provider with any questions you may have regarding a medical condition. No guarantee of passing a drug test. All hemp products are grown without pesticides.