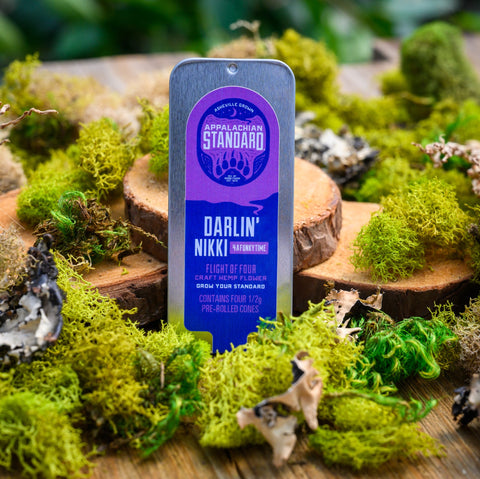 Appalachian Standard
Darlin' Nikki 4 a Funky Time | Indica Flight
The Darlin' Nikki 4 a Funky Time | Indica Flight makes it easy to let go, just be, and not sweat the small stuff, just like our very own Darlin' Nikki. We perfectly curated the Darlin' Nikki flight with the best strains for dissolving anxiety. These strains include:
Rock Candy: This strain is a harmonious balance of relaxation and mental clarity. It's a well-balanced hybrid that can gently ease stress, anxiety, and mild pain, without causing too much sleepiness. This versatile cultivar is your ticket to tranquility, providing a blissful escape that embodies the essence of the Appalachian Mountains.


Cherry Uno: Its comforting qualities can potentially help calm down and organize your thoughts, without the psychoactive effects.


Cherry Mom: As a chill strain, Cherry Mom is naturally versatile and may help promote sleep or concentration. The buds boast a dense and resinous structure, delicious green hues, and a delightful aroma. The pungent fragrance has a sweet and hoppy aroma of earthy undertones.


Suver Haze: This cultivar is distinguished by its remarkable CBD content, which produces instant relaxation. This robust concentration of cannabidiol makes it an attractive choice for individuals seeking the potential health benefits of cannabis. This makes Suver Haze very well-suited for managing various ailments, including stress, anxiety, and minor physical discomfort.
Disclaimer
This content is not intended to be a substitute for professional medical advice, diagnosis, or treatment. Always seek the advice of your physician or other qualified health provider with any questions you may have regarding a medical condition. No guarantee of passing a drug test. All hemp products are grown without pesticides.