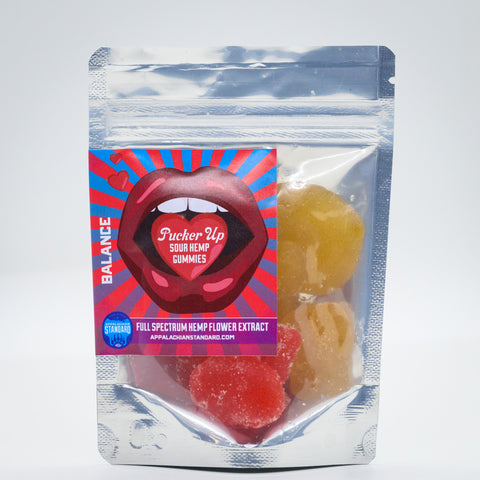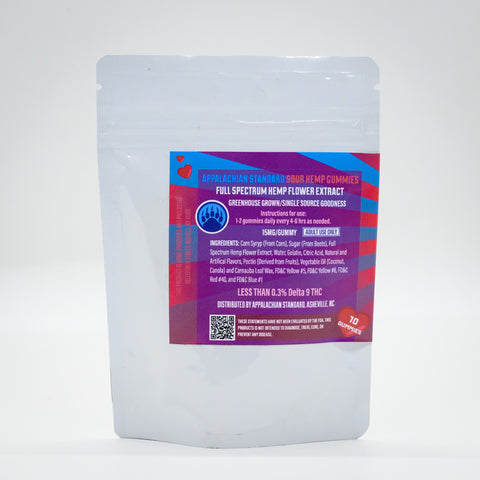 Appalachian Standard
Pucker Up Sour CBD Gummies
Our first ever limited edition Pucker Up Sour CBD Gummies are here!
Each bag of delicious heart-shaped gummies walks the perfect line between sour and sweet. Every bag contains 10 gummies. Every gummy contains 15mg of pure, sweet plant goodness grown by us in good ol' Asheville, NC.
Pucker Up Sour CBD Gummy Flavors
Strawberry

Pineapple

Cherry
The Pucker Up Sour CBD Gummies are the perfect treats for relieving stress, helping with sleep, and getting in the zone (romantic or otherwise). Take 1-2 of these babes every four to six hours for the best relief.
Aunt Sally made each and every one of these so you know that they were made with love!
Ingredients:
Corn Syrup (from corn), Sugar (from beets), Full Spectrum Hemp Flower Extract, Water, Gelatin, Citric Acid, Natural and Artificial Flavors, Pectin (derived from fruits), Vegetable Oil (Coconut, Canola), Carnauba Leaf Wax, FD&C Yellow #5, FD&C Yellow #6, FD&C Red #40, FD&C Blue #1 *This contains tree nuts.

Protect your gummies from the heat!
We recommend purchasing insulated packaging with these gummies. If you do not purchase insulated packaging, then you may not be eligible for a Customer Service Claim for your melted gummies.
Interested in learning even more about hemp babies, and elevating the vibe? Check out our Instagram and TikTok.

Disclaimer
This content is not intended to be a substitute for professional medical advice, diagnosis, or treatment. Always seek the advice of your physician or other qualified health provider with any questions you may have regarding a medical condition. No guarantee of passing a drug test. All hemp products are grown without pesticides.