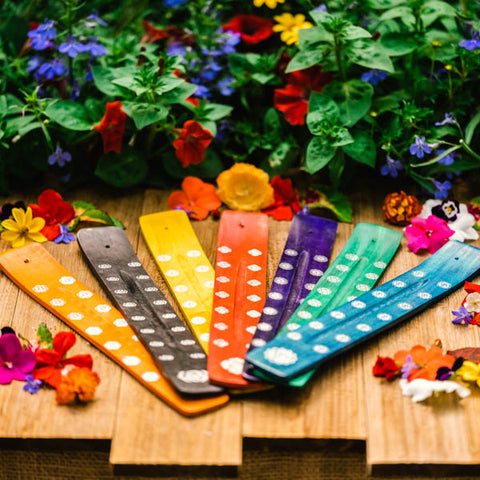 Appalachian Standard
Wooden Chakra Incense Holder
The Wooden Chakra Incense Holder is a classic incense holder and comes in SEVEN different colors, one for each mood!! (yes, we're collecting them all. Like vibey pokemon) These babes come in:
Green
Black
Purple
Yellow
Red
Blue
Orange
...and are made from wood with fun little dot designs painted in white! There is a perfect little divot in the center which captures any ash from incense. Looking for the full experience? Oh we got everything you need baby...just call us the Amazon of happy hempin'. We have lighters here and we also carry two kinds of incense sticks: Nitiraj and HEM! Our fav scent is def the Dragon Blood.
The Wooden Chakra Incense Holder measurements are:
Shipping Weight: 0.13 pounds
Height in Inches: 0.5
Width in Inches: 1.5
Length in Inches: 10
Complete the vibe with a few of our 1g, pre-rolled ladies!! May we suggest
Hawaiian Haze
for the orange and
Suver Haze
for the blue?
Interested in learning even more about CBD, hemp babies, and elevating the vibe? Check out our Instagram and Twitch for more information on upkeep and how-to's with your CBD and Hemp kits!
Disclaimer
This content is not intended to be a substitute for professional medical advice, diagnosis, or treatment. Always seek the advice of your
physician or other qualified health provider with any questions you may have regarding a medical condition. No guarantee of passing a drug test.
All hemp products are grown without pesticides.