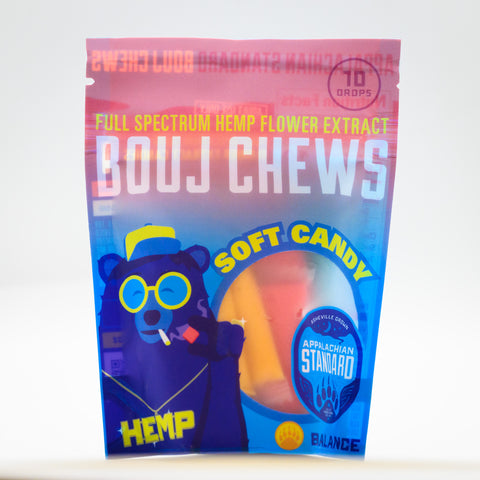 Appalachian Standard
Bouj Chews CBD Taffy Candy
Introducing our creative take on the classic CBD gummy: Bouj Chews!
Our Bouj Chews CBD Taffy Candy are what we always dreamed a candy could be: a delicious, perfectly chewy, mouth-watering 25mg full spectrum gummy taffy candy. We've been munching on these babes poolside, porch-side...really everywhere, and we can't wait for you to experience this.
Bouj Chews CBD Taffy Candy Flavors
Blue Raspberry

Watermelon

Orange Dreamsicle

Black Cherry

Grape
Each bag contains 10 candies in an assortment of flavors with a total of 250mg green goodness per bag. These gummies are handcrafted in a small batch kitchen run by the ladies of the family.
Ingredients:
Pure Cane Sugar, Tapioca Syrup, Palm Oil, Water, Tapioca Starch, Natural Cherry Flavor, Natural Watermelon Flavor, Natural Raspberry Flavor, Natural Tangerine Flavor, Full Spectrum Hemp Extract, Citric/Malic Acid, Sunflower Oil, Natural and Artificial Colors, Sunflower Lecithin

Protect your candy from the heat!
We recommend purchasing insulated packaging with this candy. If you do not purchase insulated packaging, then you may not be eligible for a Customer Service Claim for your melted candy.
All of our federally legal craft hemp flowers contain below the federally legal limit of 0.3% Δ9-THC.
Interested in learning even more about hemp babies, and elevating the vibe? Check out our Instagram and TikTok.

Disclaimer
This content is not intended to be a substitute for professional medical advice, diagnosis, or treatment. Always seek the advice of your physician or other qualified health provider with any questions you may have regarding a medical condition. No guarantee of passing a drug test. All hemp products are grown without pesticides.