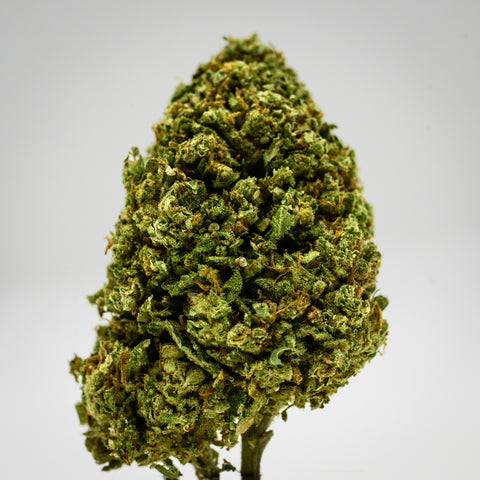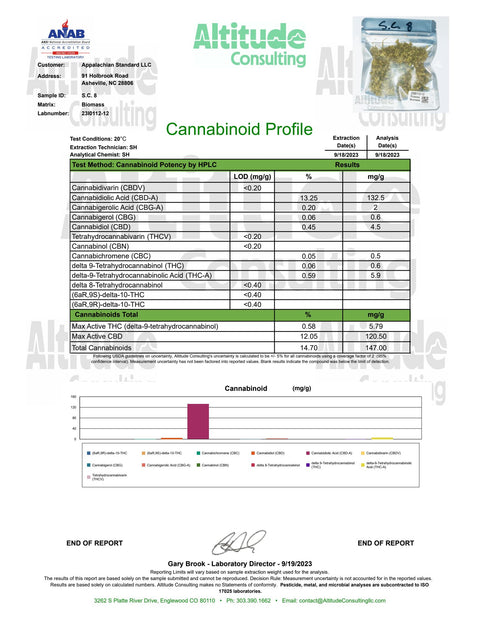 Appalachian Standard
Sour Chem Hemp Flower
 Sour Chem Hemp Flower falls into our Balance Collection as a hybrid. 
Cultivar Profile
Sour Chem pulled all of its complex flavor straight from the earth through its roots and into its thick beautiful buds. A more stocky plant structure allows it to produce very wide buds with good density covered with squiggly red hairs. Its aroma hosts many pungent terpenes with hints of root vegetables like sweet ginger and garlic.

It reminds us of that satisfying feeling of drinking a cup of warm honey ginger tea on a chilly mountain morning. Its smoke provides some peppery heat that is quite pleasant with a zesty aftertaste.

Sour Chem Hemp Flower is great for anytime of day, providing the ultimate calm during high-stress situations helping with focus and mental clarity.
Usage and Suggested Serving
Anytime of day: 1 gram per day or as needed
Cannabinoid Highlights
12.05% CBD
14.7% Total Cannabinoids
Contains: THC-A
Genetics: Chem4 x GG#4
*Appalachian Standard's premium hemp flower is third-party tested for quality and purity and grown without the use of chemical pesticides, making it an ideal addition to your daily routine. All products are grown and processed in-house by us, from seed to sale.*
Interested in learning even more about hemp babies, and elevating the vibe? Check out our Instagram, TikTok and Facebook!
Disclaimer
This content is not intended to be a substitute for professional medical advice, diagnosis, or treatment. Always seek the advice of your physician or other qualified health provider with any questions you may have regarding a medical condition. No guarantee of passing a drug test. All hemp products are grown without pesticides.